Auto Insurance
Regardless of your driving record, the state of California requires you to carry auto insurance. Whatever your driving record, Pronto Insurance Services will work to ensure you get the best rate possible for the coverage desired. Join the thousands of Californians who have saved money by giving us a call or going online today; let one of our experienced agents help save you money.

Insurance cost is one of the largest concerns for consumers. In the state of California there are multiple factors that are taken into account. The first is your driving record. The frequency in which one receives tickets or gets into accidents is directly related to how much or how little a person will pay for auto insurance, because auto insurance is a business about buying risks. A person who has many tickets or accidents is at greatest risk behind the wheel, therefore costs to insure are higher. On the other side of that coin, a driver who has no tickets or accidents on their record has shown they follow all laws and drive safely. It is less expensive to insure drivers with lower risks.

Another major factor in determining price of coverage is the years of driving experience a driver may have. While the driver's age may play a small factor the reality is the number of years licensed is much more important. Therefore, in addition to being eligible for a good driver discount base on length of time driving, a driver who has proven that they experienced too will find rates favorable to them.

No matter what your needs are or what your past driving record is, be sure to call us at Pronto Insurance and we'll help you find a cheap auto insurance police that fits your needs!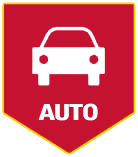 Please Note: Product, coverage, discounts, insurance terms, definitions, and other descriptions are intended for informational purposes only and do not in any way replace or modify the definitions and information contained in your individual insurance contracts, policies, and/or declaration pages.